2022 Inclusion Report Presented to President Herzog
AKIM's annual inclusion report was presented last week to President Issac Herzog and his wife Michal at a special reception held at the President's Residence with AKIM's Chairman Rabbi Dr. Benjamin (Benny) Lau, CEO Sigal Peretz Yahalomi, representatives Rina Schechter and Elisha Friedman, Chairman of Arab Region Yousef Rashed, and Benny Farjun, Deputy Chairman and Chairman of AKIM Ramla.
In 2022, the study "People with Intellectual Disabilities in the Media" focused on the way in which people with intellectual disabilities are represented in Israel's mainstream media, with an emphasis on news content. AKIM's inclusion report, administered annually since 2013, examines the attitudes of the Israeli public towards people with intellectual disabilities and the degree of inclusion and integration into the fabric of Israeli society.
In his speech, President Isaac Herzog addressed the AKIM representatives: "What you are doing is 'tikkun olam' (repairing the world). You allow more and more people to be a part of the conversation, to be included in the community, to be partners in society. It is true that in many respects, such as adequate representation in the media, there is still a long way to go, but what you have been able to achieve in less than a decade is commendable. With planning, sensitivity and patience, you have succeeded in bringing about real change. You are an inspiration and a true source of hope."
AKIM CEO Sigal Peretz Yahalomi added: "The positive attitudinal change that we are witnessing towards the inclusion of people with intellectual disabilities stems from their actual presence in the community - in housing, employment, the IDF, etc. Today 40% of people with disabilities who not living with their families are in community living, and since we began the "Equal in Uniform" program with 5 soldiers more than a decade ago, 1,100 soldiers have completed the program and found meaningful employment. The public is familiar with these people and understands that their place is in the community and in the workplace just as any other person.
21% of the articles dealt with inclusion and integration into society.

In only 14% of the items, people with intellectual disabilities themselves were interviewed and voiced their opinions (mainly on issues of inclusion and integration)

40% of the references to people with intellectual disabilities were presented in a context of weakness and victimization.

81% of members of the public believe that people with intellectual disabilities should live a full life within the community. This is a significant increase compared to the 2014 study where only 42% responded similary.

Only 1% of the public believes that a person with an intellectual disability is dangerous to himself or others wheras in the first inclusion index study (2013) 25% of respondents thought so.
New Fundraising Campaign - Equal in Everything

:
AKIM ensures that people with intellectual disabilities have
equal opportunity and enjoy maximum inclusion -
in the workforce, community living, IDF service, performing arts and more.
Check out the movie below

:
The campaign focuses on success stories in many spheres- employment, community living, relationships, culture and the arts, and in the IDF. Participants in AKIM programs took part in the filming with presenters coming together from all over the country.
There is a new buzz this year on the streets as schoolchildren have embraced the campaign and are going door to door, after years of social distancing . At the same time, there is an online crowdufunding campaign so everyone is welcome to donate in a way that suits them. (Donations are tax deductible in USD, CDN $, GBP and NIS)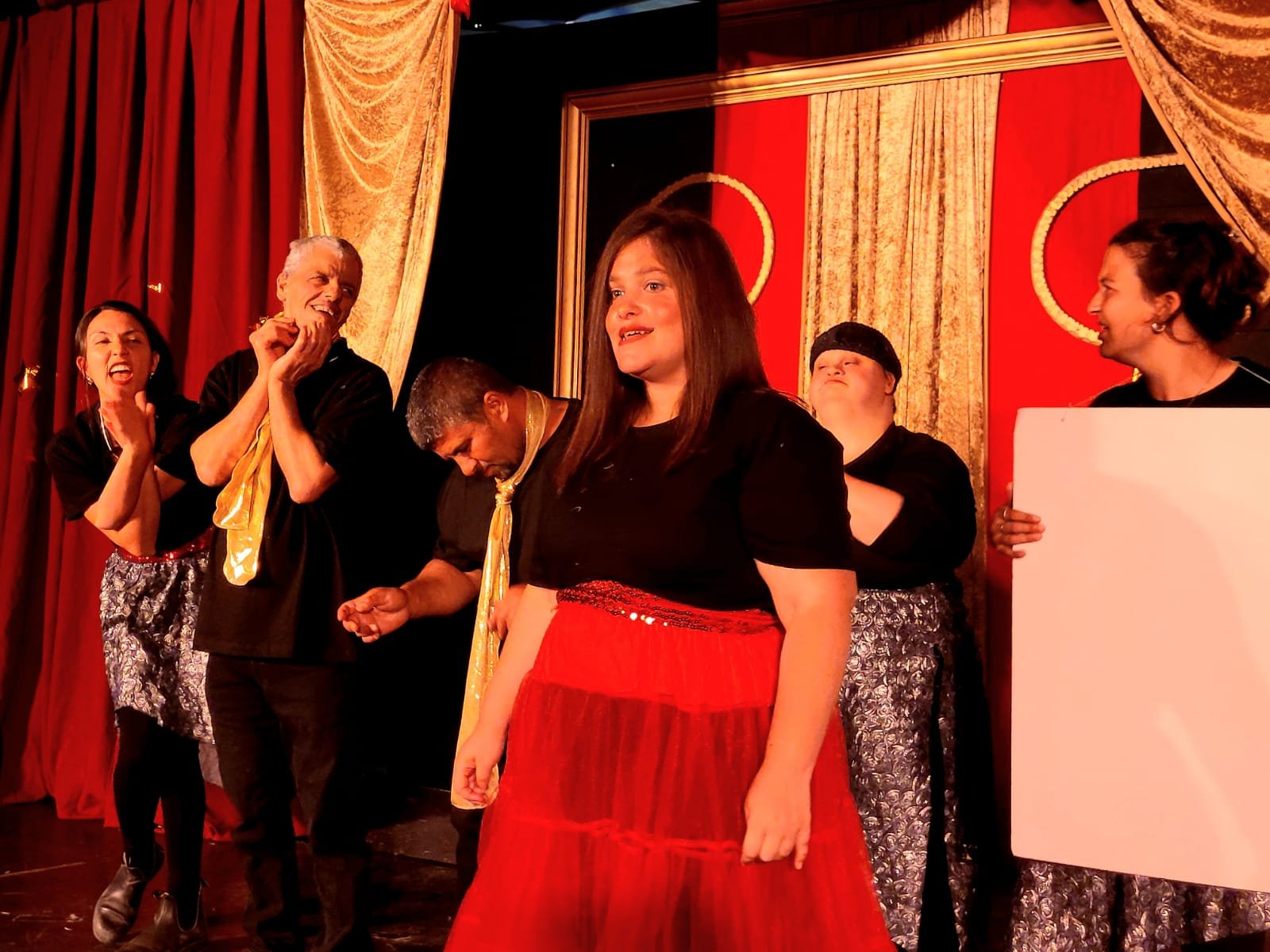 Members of the AKIM Ramla Drama Club meet weekly throughout the year with students from TAU's Community Theater and Arts track for mutual inspiration. The culmination of this collaboration took place this month at the Ramla Theater with an exciting production called the "Dream Gallery". The stage was shared by people with and without disabilities, blending into one cohesive and talented theater roupe. The crowd was deeply moved by the performance.
******************************************************************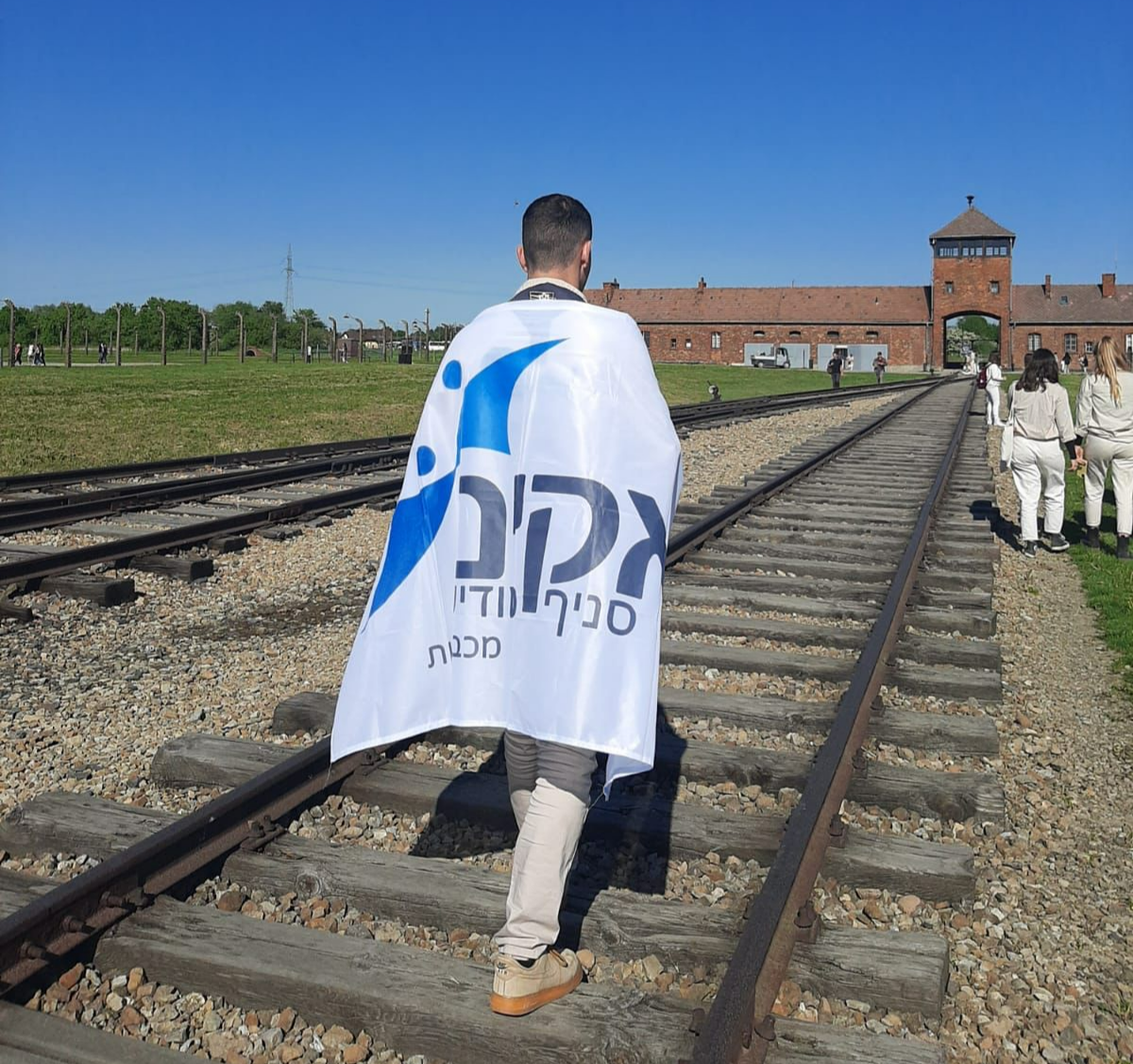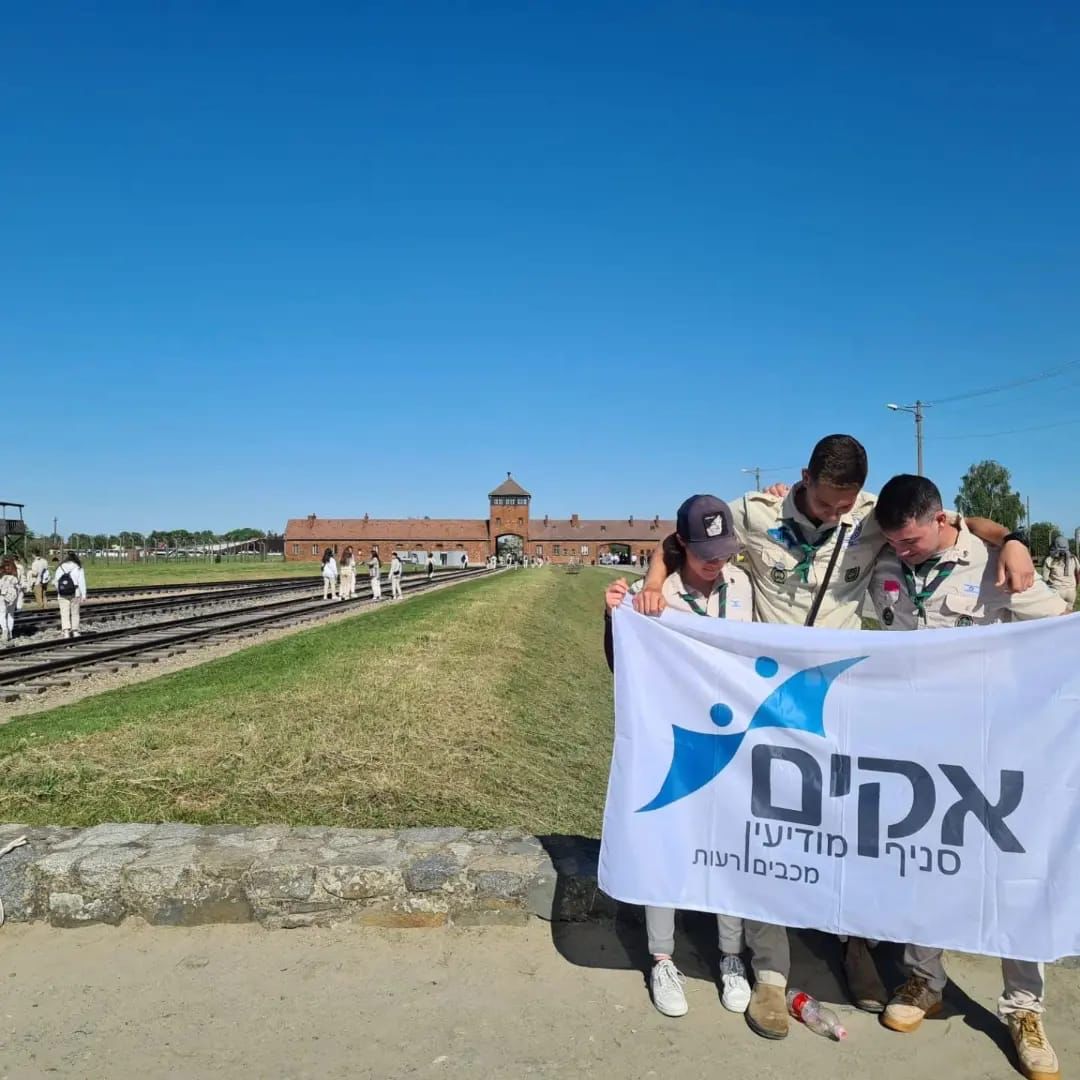 Pre-army volunteers from the Tzofim (Scouts) are participating in a
March of the Living contingent in Poland
. They flew the AKIM banner in recognition of the deep siginificance of volunteering with an organization representing Israelis with disabilities bearing in mind the atrocities committed at this place.
****************************************************************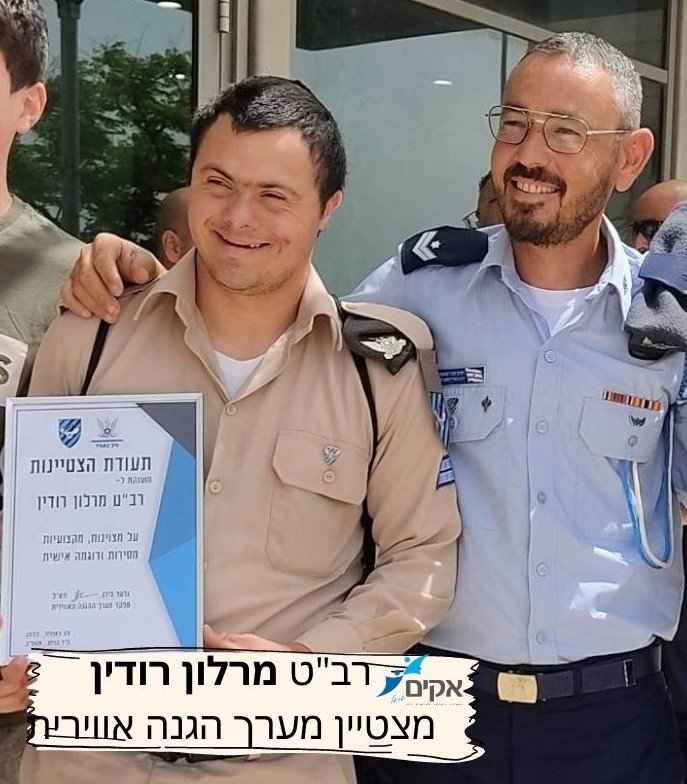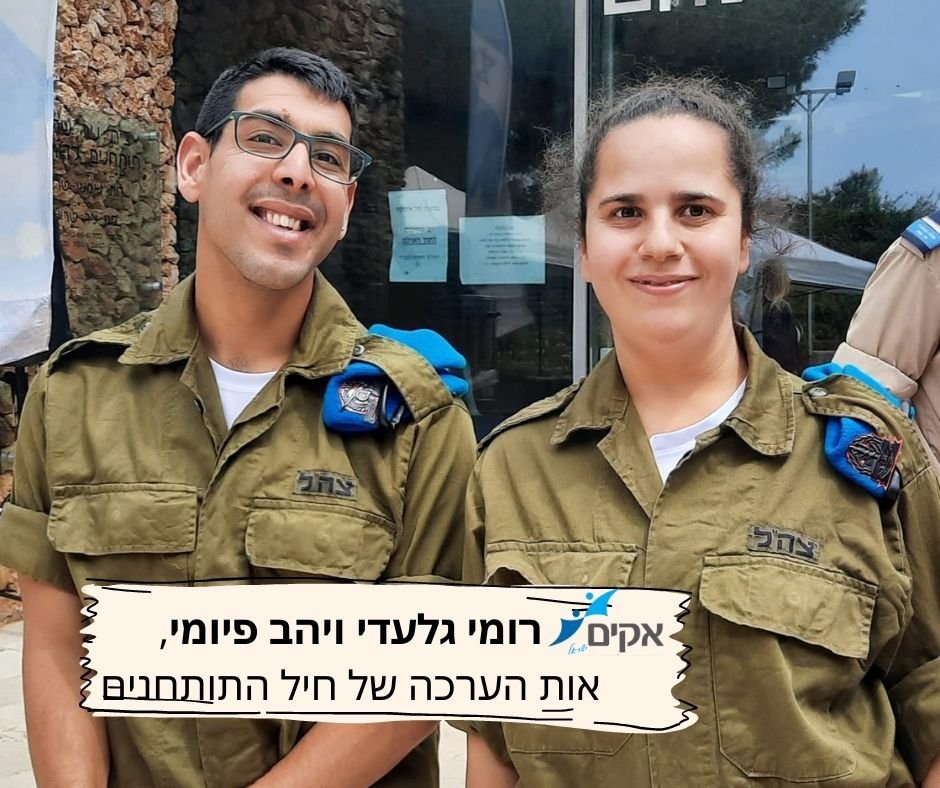 A total of

9

Equal in Uniform soldiers/volunteers were presented with an Award for Excellence on Independence Day (Yom Ha'atsmaut) this year!
They don the IDF uniform just as their peers do and serve in air and ground force battalions working with logistics, equipment maintenance, IT systems, and many other areas.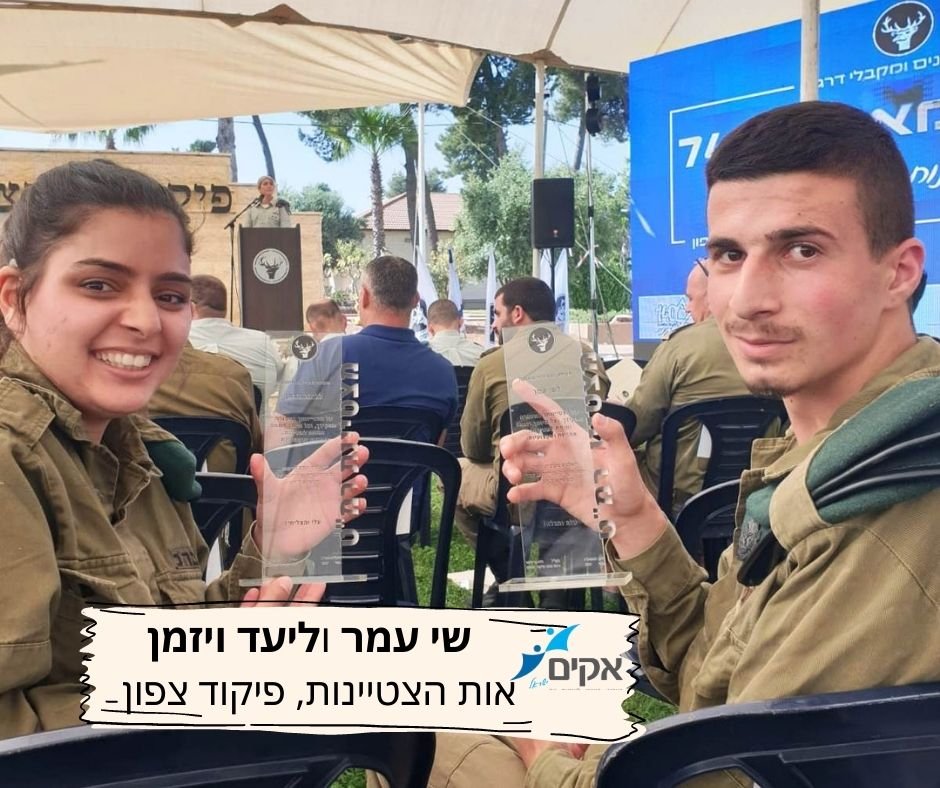 In the words of 282nd Brigade Commander Assaf: "This exciting project is a complete win-win. My Equal in Uniform soldiers become better connected to Israeli society and boost their self-confidence. At the same time, my enlistees become sensitized to the beauty of diversity and learn the value of inclusion, something they will take with them long after they complete their service. As a people's army, the IDF ensures that everyone receives an equal opportunity and a sense of belonging, no matter where you came from".
To make Israeli society a better place for people with intellectual disabilities and their families: inclusive and respectful, facilitating self-actualization by providing equal opportunity while acknowledging the importance of diversity.
The National Organization for People

with Intellectual Disabilities and their Families
Tel-Aviv, 6951291, Israel